We've all heard those expressions "end up in a wheelchair" or "wheelchair bound" and know the negative connotations that get associated with them and other mobility aids. We are somehow trapped, passive, helpless and the object of pity simply by reason of using a tool. All too often we internalise these attitudes and may resist using the tools which can help us live more fully and actively. I thought I would share a bit of my story and the kind of decision-making process I recently went through and the choices I made.
Factors in my decision
I have walked with a stick for many years but my mobility is not so good since the enforced housebound state that came about though the pandemic. I am fortunate to have a job here at Disability Information Scotland where I can work from home but have been so much less active without the commute and have found that the enforced inactivity has made it more difficult to be mobile. For many years I was a keen cyclist but even with an electric bike, I am having to admit that my iffy joints make me unsafe on my bike. Sadly I have no room to store a trike so that is not an option. I decided it was time to think of a motorised mobility option.
Pros and cons
Pros for me were being able to go out independently and travel further than before without needing public transport (I do not drive). The added spontaneity that would bring to my life, with less worry about whether I needed to carry a stool to take a rest or in the middle of my trip, or finding that the pain involved meant I had no pleasure in wherever I was going. It would also save me in taxi fares.
The main con was the cost of the equipment though there were other major considerations. Perhaps the most important is that I need to exercise even if it is painful therefore it should not be a substitute for exercise.
Other considerations for me:
Portability – lightweight.
Small footprint for storage – needed to fold.
Ease of folding.
Offboard battery charging – another space requirement for me.
Ease of use.
Budget – I was looking at the lower end of the budget.
Would easily support my weight.
My choice
I had narrowed down possibilities to one or two mobility scooters and one or two chairs from searching online but a clear candidate was coming to the foreground right away. I read all of the reviews. I even found a user manual online and read that but the only sure way to know whether or not you would be comfortable with your choice is to try it out.
It was sold by CareCo and the nearest showroom to me is Glasgow. They have a kind of track with bumpy bits that you can test drive on so I did the test drive and loved the Minimus mobility scooter. It is tiny and folds to a trolley I can pull behind me if I need to and it fits just behind my door at home. I found the instore staff helpful and encouraging.
The Minimus has a less comfortable seat than many of the options. I don't find it bad but the trade off is the weight. It is much lighter which is what I need if I am to manage it in all situations. You need reasonable balance and the ability to shift your weight a little when pavements slope a bit. I live in Edinburgh where there are a lot of cobbles. Some of the worst managed cobbles are a bit tough to go over. There is a level that can put the scooter into neutral so you can push it. I did that for difficult pavements however I found that to be hard work as the wheels still have a bit of resistance even in neutral. What has worked better for me is to turn the speed right down and use the throttle to move over the difficult ground using the motor to do the work. That works well for me.
What difference has it made to me?
I have had the scooter just a couple of weeks now and it has been truly transformative. I am getting more exercise but in more pleasurable ways as I don't need to expend so much energy getting to where I want to go. I've been able to enjoy the amazing weather and go to the park with friends. I've been able to travel beside a friend at their walking pace rather than always struggling along really slowly and forcing them walk at a snail's pace or leave me behind. The lift in my spirits from the extra freedom is wonderful.
I wanted to write this post to attempt to alleviate the stigma associated with disability aids. People often delay the choice to use a motorised wheelchair or scooter because of the negative associations with wheelchairs or mobility scooters. People also think that those who use them must be completely unable to walk. We live in an age when the technology is available to help us to live more independently than ever. I hope by sharing a little of my experience and the joy that has resulted from it, it might help you if you are struggling with your mobility and looking for a solution. As Nina Tame (a wonderful Disabled blogger on Instagram) says "if you think you need a mobility aid then you need a mobility aid". You don't have to be more disabled or older or anything else.
I think some of my joy shows on my face with this image from my lovely friend's Instagram page. She uses a wheelchair and I am on my scooter. I am the one who is laughing like a hyena.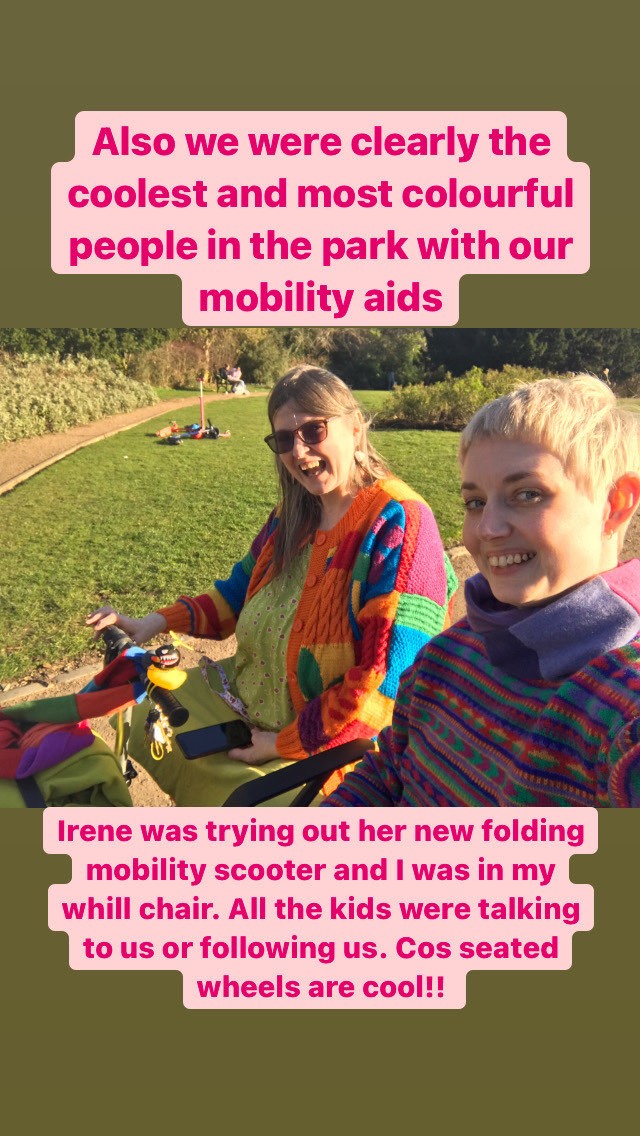 See also our new info guide on choosing a motorised mobility scooter or electric wheelchair