Autumn is in full swing. The clocks have gone back and the leaves carpet the paths below us with the most beautiful of colours. It can only mean one thing, winter is on its way, bringing with it shorter days, darker mornings, colder weather and the desire to hibernate. Managing a long-term condition can be hard work at any time in the year without the added effects of winter.
Self care is so important throughout the winter months so we have put together a selection of hints, tips and advice to assist you in coping with everyday life in winter.
Keep Active & Get Some Fresh Air!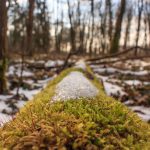 Make the most of the limited daylight. Open your curtains to let the light in or wrap up warm and head outside for some fresh air. Even just a stroll to the end of your road can do wonders for your mental and physical health. Just remember to keep warm, layer up with clothing and try to keep your feet, hands, face, and head warm
Another important note when adventuring outside is safety. Check grips on any mobility aids are in good condition and if you use a wheelchair, check for accessories to keep you safe, warm and dry. Call our helpline if you need help searching.
When you feel like hibernating, staying active might not be at the top of your list of favourite things but it will not only keep you fit and healthy, it will also generate heat to keep you warm.
If it's too cold to go outside, look for ways to keep active indoors – get up and move around your house or spread chores throughout the day.
Chair-based exercises are helpful if walking is difficult, along with moving your arms and legs and wiggling your toes. The British Heart Foundation have a handy guide to chair-based exercises on their website or see the NHS Live Well exercising in winter article.
See our Disability Sport Information Guide for details of sports clubs local and activities local to you.
Socialise!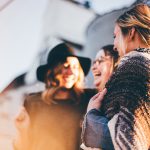 Try to keep an active social life during the winter. Even if you can't get out every day, try to phone or skype family and friends. There are different telephone befriending services available for older people that offer weekly friendship calls such as The Good Morning Service and The Silver Line.
We put together some organisations in Scotland that run social groups where disabled people can meet and form friendships and relationships in our Dating, Friendships and Relationships Information Guide.
Eat Well!
Eating well during the winter months is important for your health and wellbeing. Hot meals and drinks help to keep you warm, so try to eat at least one hot meal each day and have hot drinks throughout the day. Check out this 5-a-day Hearty Winter Veg Soup recipe.
Aim for at least five portions of fruit and vegetables a day, either fresh, frozen or dried. It can be ideal to keep basic food items in the cupboard or freezer in case the weather prevents you from going shopping- remember to keep wee stock for your pets too. There is also the option to shop online and get your food delivered.
Winter can be a good time to try your hand at home cooking and baking. For more ideas and information, see our Adaptive Cooking guest blog.
Do what makes you happy
It's so important to do what makes you happy and make time for relaxing. Here is a small list of common things that can help relax you.
Curl up and watch your favourite movie or read a good book.
Many people find adding meditation, yoga, breathing exercises or mindfulness techniques into their day helpful.
Get creative- adult colouring in books are fun way to destress.
Try an alternative therapy
These are just a few ideas to help you survive the winter months. For further information and advice check out the NHS Choices Winter Health.
We would also love to hear from you- share you top tips on self care for the winter months!