We all enjoy cooking, don't we? Or is it becoming a chore and the chip shop seems an easier option? Surely not?
There are lots of "helping hands" out there, tools to help you chop, chip, peel and flip. Not forgetting the trusty microwave, with it's lightweight cooking dishes.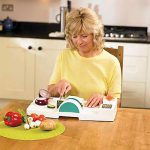 If you prefer to cook from scratch, as I do, then make use of what's on offer – prep boards like the one shown, can/jar openers, easy-grip knives. The prep boards are a great help as they stay in one place instead of wandering across the surface, and can prevent accidents. Pot supports help when stirring.
Another thing I would recommend, especially when cooking for others – don't be over-ambitious. Most of my recipes are light on ingredients – any recipe with more than eight ingredients never gets off the page.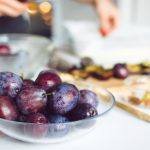 Helpful websites:
If you are blind or partially sighted RNIB have lots of great information and tips on their website.
The Disabled Living Foundation also produce two free online resources. Living Made Easy is an advice and information website about cooking equipment. AskSARA is an easy-to- use online self-help guide that is useful for people who are not sure what equipment might help.
There will be days when boiling an egg seems too much. Prepare for this by batch cooking, or making extra and freezing when you are having one of your better days – and use frozen veggies. You then have a quick easy meal for those off-times, (remember your friend the microwave?)
If all else fails, there is always the chip shop, or a "ready meal". Occasionally.
If you have any cooking and baking tips or experiences you'd like to share with others, please feel free to leave a comment. If you'd like more information on any of the organisations listed in the blog, please do call our helpline on 0300 323 9961.